Celebrate National Cocktail Day Near Orlando's International Drive
Did you know March 24 is National Cocktail Day? Get in a celebratory mood for this festive occasion and discover a few of our favorite bars and restaurants on International Drive. Come along and get ready to have some fun as we show you some of the best spots in Orlando!

Bar Louie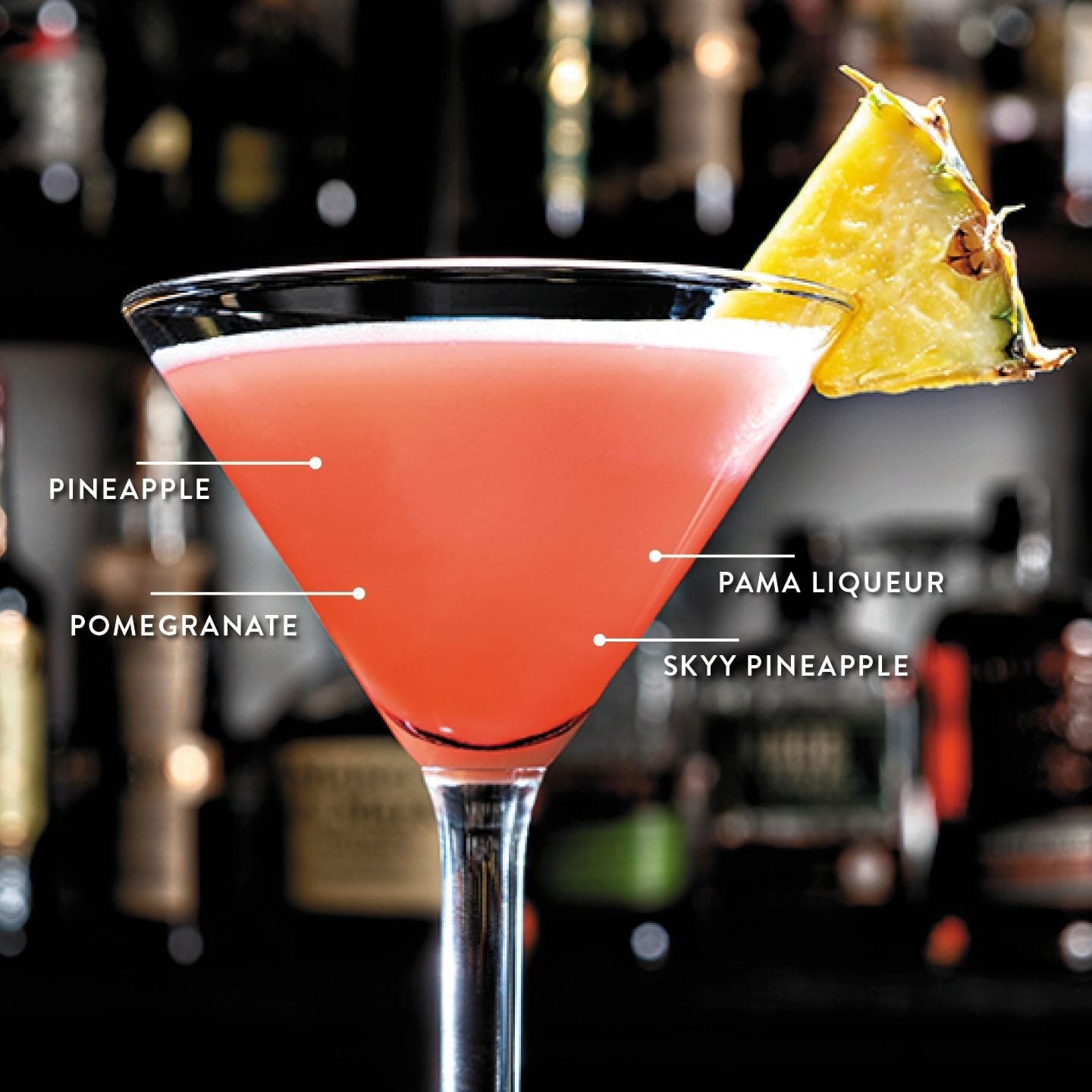 Eat. Drink. Be Happy. The tenets of the Original Gastrobar. Bar Louie sports chef-inspired food, neighborly service, and what we're here for - cocktails! Browse through the extensive
list of Bar Louie's cocktails perfect for whatever mood you're in.
Want something refreshing and bright? Try out the Spa Water Cocktail, a delicious concoction of Casamigos, agave, cucumber and sparkling water. Need a "spark" to your day? Look no further than the Second Wind cocktail! A creamy and decadent combination of Ketel One, Disaronno, Coffee, and Cocoa.
We recommend trying the cocktail of the month, Not only do you get to enjoy this splendid mixture of SKYY Pineapple, Pama liquor, pomegranate, and pineapple - you also are helping out kids in need! That's right! For every martini that is sold, $1 of the proceeds will head directly to No Kid Hungry, an organization dedicated to the mission of ending hunger for children.
Check out their full selection here!
Gods and Monsters Vault 5421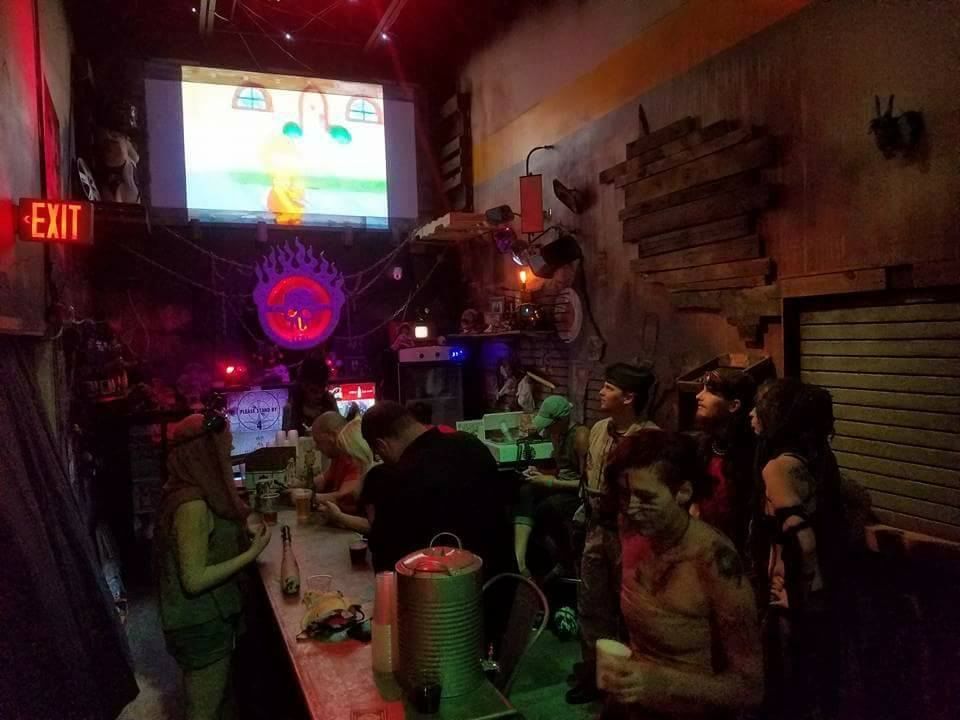 In the back of a comic book store, there is something very exciting!
Enter into a "Post-Apocalyptic Themed Craft Beer Bar" (seriously), that features a "radioactive" vibe that is reminiscent of Mad Max the movie. Offering a variety of cocktails including the Monster Island, a "spooky" combination of guava and rum, and shots served in medicine cups - this experience goes 100% when it comes to immersion.
While this place may not be for everyone, there are bound to be some ride-or-die fans of this joint.
Check out a video of the place here!
Ice Bar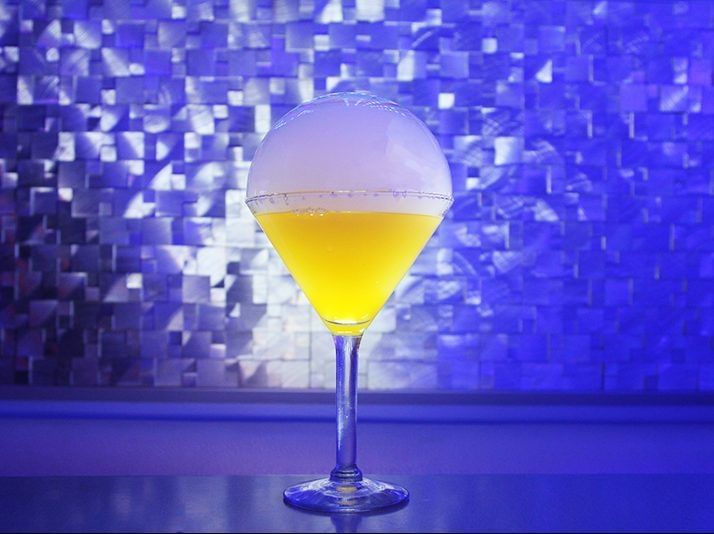 Welcome to the famous ICE BAR on International Drive. As previously mentioned in our blog "A Local's Guide to International Drive", the ICEBAR is known worldwide as the ultimate arctic wonderland. Here, everything is made of ice: the seats, the tables, the bar itself - you name it!
To be exact, at the Ice Bar you are surrounded by over 70 tons of ice (yes, that's right). Need to warm up? Head next door to the FIRE LOUNGE to warm up and enjoy a craft cocktail including the famous mystical martinis. The one featured above? That's the Passionfruit Fizz, a mixture of Rum, Passionfruit Puree, Triple Sec, Orange Bitters, and Lemon Juice all encapsulated in a cold-air bubble.
This place is perfect for partygoers and people looking for something unique. Check out their full menu here
Ole Red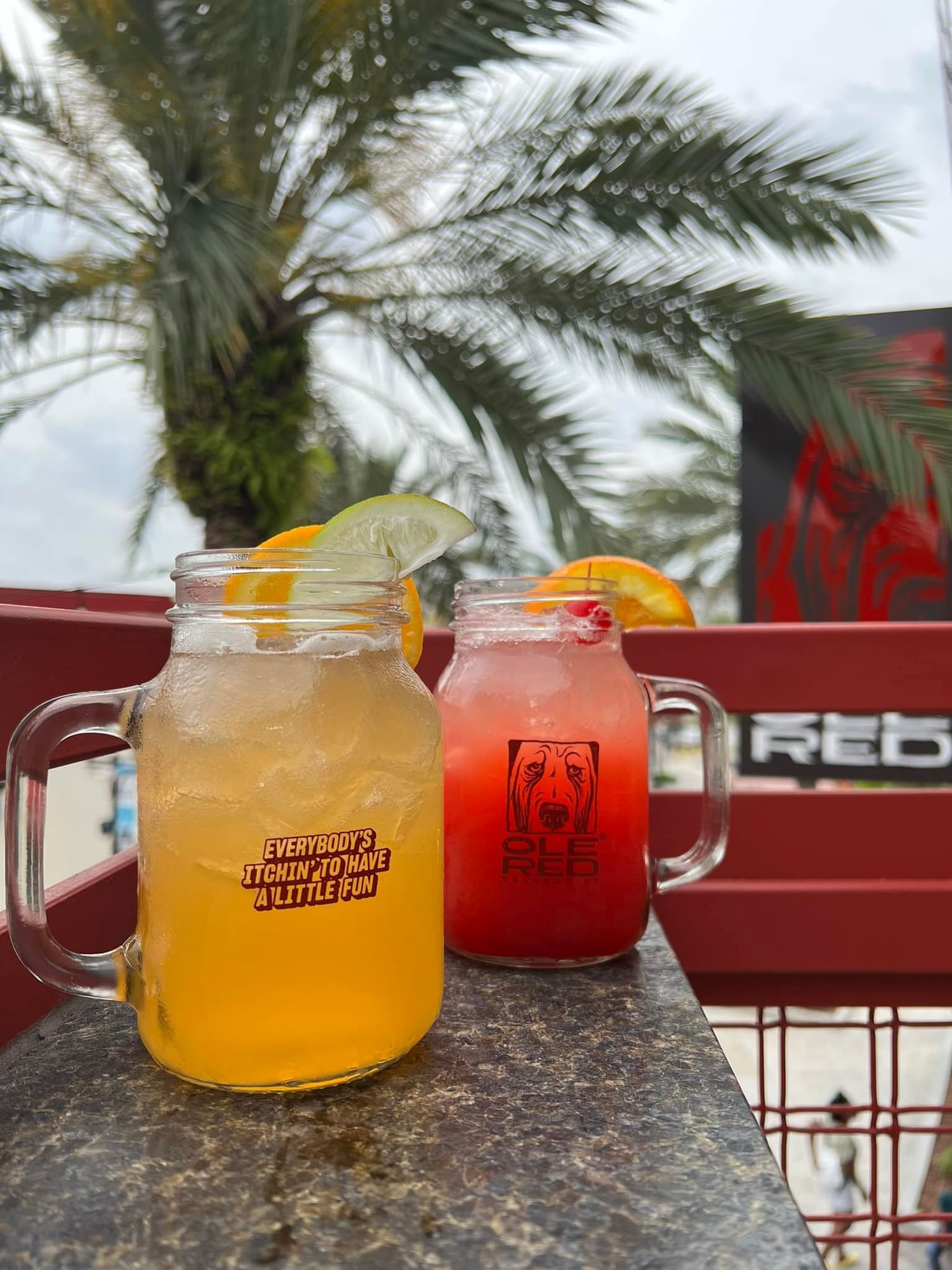 Ole Red is a full country venue experience that features fun drinks like a spin on the classic Arnold Palmer called "The Warden". This concoction inclues a little bit of Jim Beam Peach, Peach Puree & fresh lemon mixed with unsweetened iced tea.
Other favorites include the No Vacancy Red Sangraia, which is a mixture of Cabernet Sauvignon, J.F. Haden's Citrus Liqueur, Laird's Applejack, cranberry & fresh Fruit that will have you on the dance floor in no time. Make sure to go on a night with live music! This is a perfect place to go if you are looking to have some laid-back southern fun. Check out their calendar here.
O'Schucks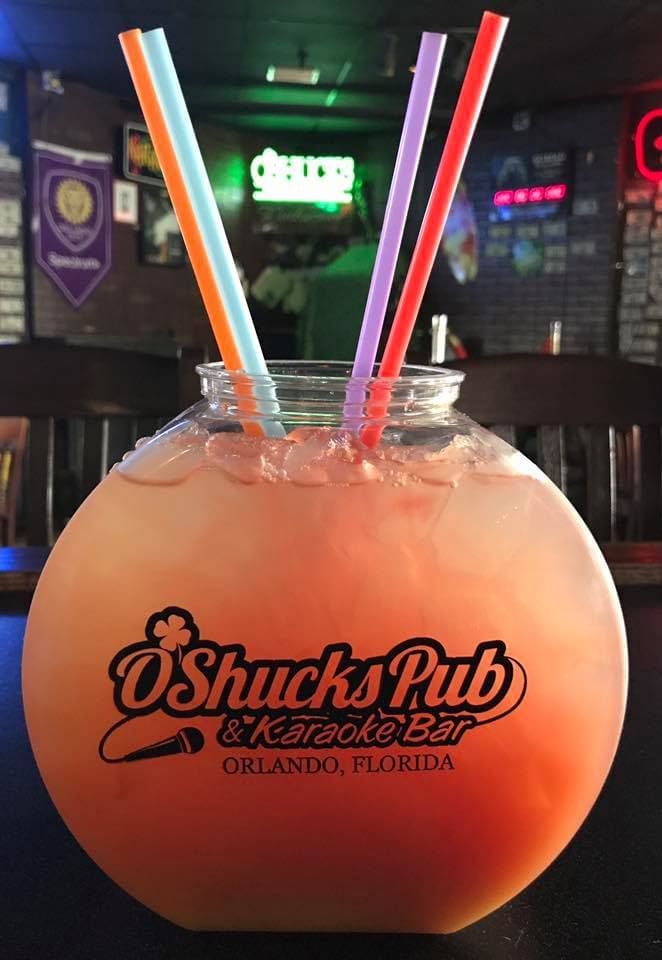 Ever since 2003, this local pub and karaoke bar has charmed the city of Orlando with laughs, drinks, and singing. Introducing O'Schucks Bar, a bar opened up by three best friends all in the interest of treating people how they want to be treated. Over 20 years later this place is still a hoot. With live karaoke nightly, this place lights up with the most unique locals that have often been going for many years.
Check out the Fish Bowl, a slew of juice and liquor to get your party started the right way. Perfect for sharing!

From an Irish karaoke bar, to an upscale gastropub, to a Southern venue and everything in between - we know all these spots are sure to provide a unique, fun experience. Now remember, if you celebrate National Cocktail Day the right way, you must appoint a designated driver. So everyone can have a safe, fun experience out in Orlando.