Ice Breaker is SeaWorld Orlando's Newest Roller Coaster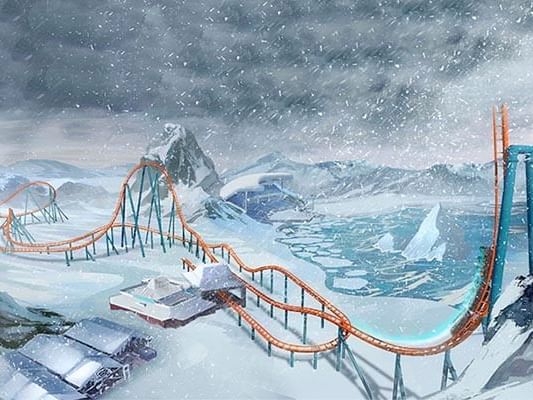 Set to open in the Spring of 2020, this launch-start roller coaster is joining the ranks of siblings Mako, Manta and Kraken
SeaWorld seems to have set it sights set on dominating Central Florida's theme park landscape as the roller coaster leaders—and Ice Breaker is another stake on the ground to claim that title. And this may just be on more in a trend that seems to be transforming this popular adventure park in Orlando.
Ice Breaker will be located next to the cold-weather themed Wild Arctic attraction, which already draws the attention of park attendees with its thrilling helicopter simulator action. The attraction gets its catchy name from the ice-covered Arctic summits, reached only by the most daring adventurers in the world.
What makes Ice Breaker particularly exciting is not just one launch sequence, but the fact it has four launches—both forward and backwards. The final launch is done in reverse and launches the riders backwards into a steep beyond-vertical drop of 93 feet with a 100 degree angle!
Needless to say, SeaWorld's Ice Breaker is bound to become one of the most intense roller coasters in all of Florida. And if that's not all, SeaWorld Orlando's sibling park, Busch Gardens Tampa Bay, is getting its own whopper of a roller coaster, named Iron Gwazi. And yes, we will be writing a blog article on them too this month.
Whether you like roller coasters or not, you will love Vista Cay Resort by Millenium along with our exceptional value and convenient location so close to SeaWorld Orlando (and Universal Studios) that you will never want to stay anywhere else.