Mini-Golf is as Popular as Ever in Orlando
While Orlando is known by many as a golf destination thanks to its dozens of golf courses, we are also known for our family entertainment—best embodied by a round of mini golf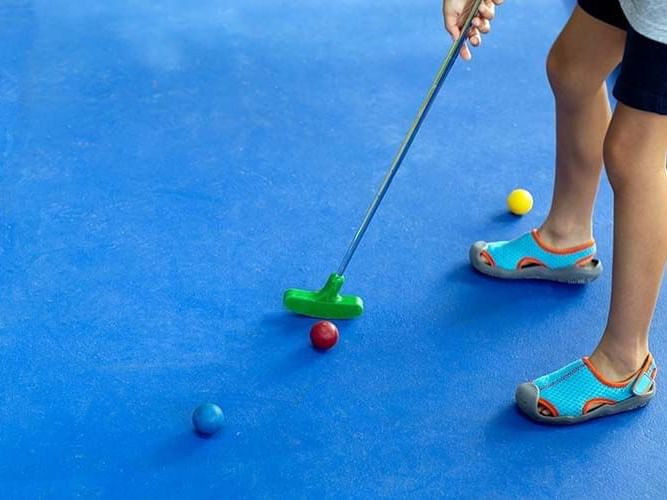 While Orlando is known by many as a golf destination thanks to its dozens of golf courses, we are also known for our family entertainment—best embodied by a round of mini-golf
Families are Orlando's primary tourism market and while theme parks attract millions of people every year, most people want to take a break after a couple of days of back-to-back theme park strolling. If you are one of those people who track your steps, know that any given day at a theme park can count as 25,000 or more steps per day. That is sure to make a lot of people tired and when you are traveling with youngsters—well, that ends up becoming a big problem when they began to fall prey to the strenuous walkathons in the theme parks.
Since Orlando is known for its great golf weather, why not turn your "day off" from theme parks into a simpler round of mini-golf? After all, golf is known to be a walking sport but its competitive nature will create an opportunity to create memories and prompt great conversations among family members. Here are some of the mini-golf courses you'll find near Vista Cay Resort by Millenium, located within a short drive or I-Ride Trolley ride:
• Pirate's Cove Adventure Golf: 8501 International Dr.
• Lost Caverns Adventure Golf: 6306 International Dr.
• Congo River Golf: 5901 International Dr.
• Gator Golf Adventure Park: 6586 International Dr.
• Orlando Putting Edge: 5250 International Dr.
All of these mini-golf parks are located within a 5-minute drive from Vista Cay Resort by Millenium, making them an exceptional opportunity to break away from the theme parks for a day. So go ahead, plan an afternoon at a mini-golf on or near International Drive and see what an amazing experience it can be. Best of all, you will spend a lot less than on a daily visit to one of the larger theme parks.
That said, if you want the full golf experience, we are also located just down the road from the TopGolf Orlando. This is certain to be a favorite golf destination for adults who visit Orlando on business trips, but it is equally as popular with families where golf is a religion. The point is simple: Orlando is synonymous with golf and we would love to be your resort property of choice when visiting our beautiful city.
Vista Cay Resort by Millenium loves to welcome families to our property and we are sure you will appreciate our convenient location that is close to everything. Whether you want to play golf or mini-golf, our Central Florida weather always cooperates with the future stars of the greens.