Orlando International Airport's New South Terminal "C" Under Construction
Our city welcomes over 70 million visitors every year and the new terminal will help us ensure their arrival and departure is as exciting as the theme parks they come to visit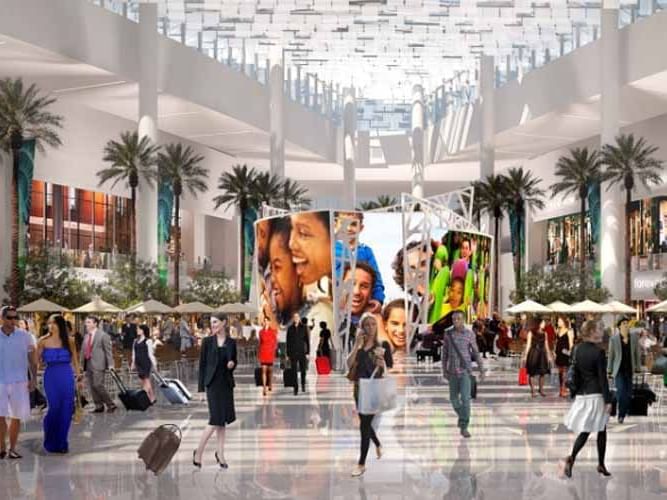 Our city welcomes over 70 million visitors every year and the new terminal will help us ensure their arrival and departure is as exciting as the theme parks they come to visit
As of October 2019, about 50 million passengers have arrived and departed from the Orlando International Airport this year alone--and the year is not yet over. Holiday Season travel gives Orlando another spike in visits that caps off the year with consistent record numbers, year after year. And so, the question of whether Orlando can handle these massive amounts of tourists has finally been answered as the expansion of Orlando International Airport signals a new era in hospitality management for the Central Florida region.
The new Orlando International Airport's South Terminal—dubbed Terminal C—will increase this landmark air transportation facility's capacity to receive flights from additional airlines. The expansion is also supported by 2,400 parking spots in a new multi-level garage, which is connected to the main airport building via an automated People Mover. Currently, the new Terminal C is under construction but the parking facilities are already open, providing a much-needed complement to the existing main airport facilities.
Expected to open in 2021, the new Terminal C will incorporate some amazing technology worthy of a "spaceport". Furthermore, the new terminal will also offer shopping, dining and other services that can help make the transit through Orlando International an enjoyable experience—regardless of where travelers come from or where they may be headed. Jet Blue is reportedly going to have a major role as it is currently building its own building at the new terminal, planning to manage about 100 flights per day once it opens.
Perhaps one of the most innovative elements of the expansion is how Orlando International Airport will become a full intermodal hub. The new terminal will be a destination node for the Brightline Train—a planned South to Central Florida direct train line—and possibly, a connecting stop for the SunRail commuter train. All of these efforts point to Orlando International Airport's desire to lead the way in showing the world that we want to be as hospitable and accommodating as we can possibly be. And this means we are committed to ensuring the growing number of tourists can come into Orlando safely and effectively.