Orlando Keeps Breaking Records with 75 Million Visitors Last Year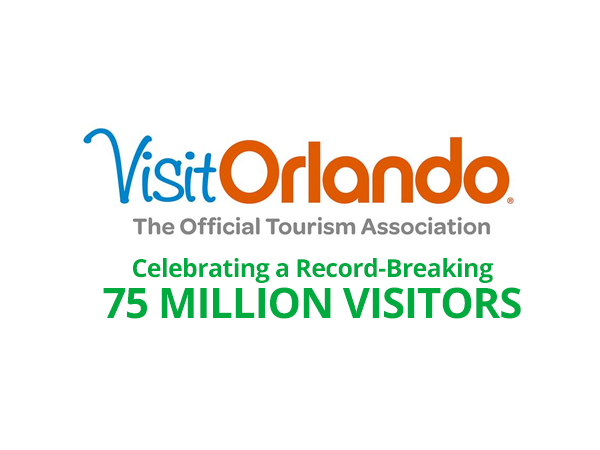 Visit Orlando, Central Florida's tourism marketing agency, reported a record-breaking number of visitors to the region—and the number is expected to continue growing
For over four decades, Orlando has developed a reputation for being the theme park capital of the world. This magnetism has attracted families seeking to enjoy a vacation like no other, but business travelers have also taken notice of Orlando. The fact is nothing compares to Orlando's unique mix of theme parks, attractions and a world-class convention center—not even close. And the number of visitors continue to certify that we are the best deal for any vacationing family and convention attendee who wants to make the most out of such a popular destination.
Tourism from Latin America continues to play a major role in the overall numbers, but European visitors are not far behind. Also, Orlando has been experiencing a revival across all theme parks that continues to regenerate the interest to see fresh and new attractions. In addition, the parks are becoming more sophisticated and through the use of mobile technology, these entertainment havens are now mixing connected devices with physical experiences for an immersive experience that can begin well before guests arrive in town.
Orlando also offers a number of convenient reasons for visiting—starting with our Orlando International Airport, which welcomed 47.7 million arrivals in 2018. The Central Florida area is also very accessible via Interstate 4 and the Florida Turnpike, which also connects to I-75, which makes it a drive-market destination from every corner of Florida. But Floridians are not the only ones who can make it to Orlando in a days-drive since tourists from Alabama and Georgia can hit the road in the morning and be in Orlando before the sun goes down—thus making it highly attractive for Southeastern US vacationers.
Last, but not least, Orlando is gearing up for the grand opening of Star Wars: Galaxy's Edge at the Disney Hollywood Studios theme park. This massive addition based on the intergalactic franchise is expected to make 2019 another record-breaking year. As fans await the official opening of this attraction, Vista Cay Resort by Millenium expects a boost in vacationers who can't wait to tour a life-sized Millennium Falcon, navigate the stars with the New Rebellion and most importantly, take a swig of Star Wars' famous Blue Milk.
Vista Cay Resort by Millenium is proud to contribute to the overall success of Orlando as the most visited vacation destination in the planet—and possibly the galaxy. We offer an exceptional value for families and business travelers, thanks to our strategic location near the International Drive tourist district and the Orange County Convention Center, as well as a few miles down the street from Universal Studios, SeaWorld Orlando and other amazing local attractions.
Book your stay with us soon and make sure you are ready for another record-breaking year in Orlando's best resort destination at Vista Cay Resort by Millenium.