Sand Lake Restaurant Row—Gourmet for the Hungry
If you're staying at Vista Cay Resort by Millenium and feel like enjoying a nice lunch or dinner, you don't have to drive far to enjoy some of the best restaurants Orlando has to offer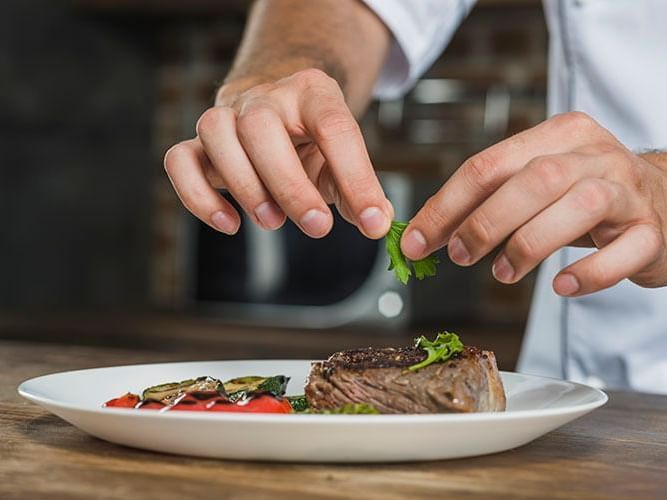 If you're staying at Vista Cay Resort by Millenium and feel like enjoying a nice lunch or dinner, you don't have to drive far to enjoy some of the best restaurants Orlando has to offer
Located only 4 miles northwest of Vista Cay Resort by Millenium, a well-known strip known as Sand Lake Restaurant Row awaits with several restaurants that are sure to amaze your taste buds. The area was given the unique moniker thanks to the concentration of more than two dozen restaurants, covering a variety of culinary styles. Most of the restaurants are concentrated in the opposing corners of the intersection of Sand Lake Road and Dr. Phillips Blvd., with plenty of parking to enjoy and if you ride Uber or Lyft, it will likely be a cheap ride to a great dining adventure:
Moderately priced, the strip's restaurants have a diverse menu that include vegan or gluten-free choices. And if that is not all, many of them have unique desserts that put a perfect end to the dining experience each offers. On that note, here is our pick of Sand Lake Restaurant Row's best culinary destinations:
Amura Japanese Restaurant – From handcrafted made-to-order sushi to hibachi dining, the explosion of taste in every bite will be unlike any other Japanese restaurant you've visited before.
Saffron Indian Cuisine – The colorful and flavorful delicacies of India come together in a journey through a menu that covers multiple specialty dishes—all accompanied by their exquisite traditional Naan bread.
Rocco's Tacos & Tequila Bar – If you are looking for a good "fiesta" then this is the place to be, complete with eclectic décor, gourmet Mexican food and over 100 kinds of tequila.
Bosphorous Turkish Cuisine – One of the best restaurants in the area, Turkish delicacies like chicken kebab, babaganoush and lamb shanks are all waiting to delight you and yours.
Christini's Ristorante Italiano – A longtime favorite for the Who's Who of our city, this gourmet Italian restaurant will delight you with its Calamari Fritto, Carpaccio di Manzo and Ossobuco di Vitello.
The common denominator for these restaurants is their unique and gourmet nature, which makes the trip to the Sand Lake Restaurant Row an attraction of its own. But know this, be sure to come hungry and ready to explore many items on the menu—and yes, save room for dessert. That said, there are many more restaurants on this famous dining strip and while we cannot mention them all in this article, we invite you to explore Sand Lake Restaurant Row during your next visit and take a tour of flavors around the world—without having to leave Orlando on your next vacation or business trip.