Shop, Dine, Celebrate! Make Disney Springs Your Holiday HQ This Year!
Vista Cay Resort by Millenium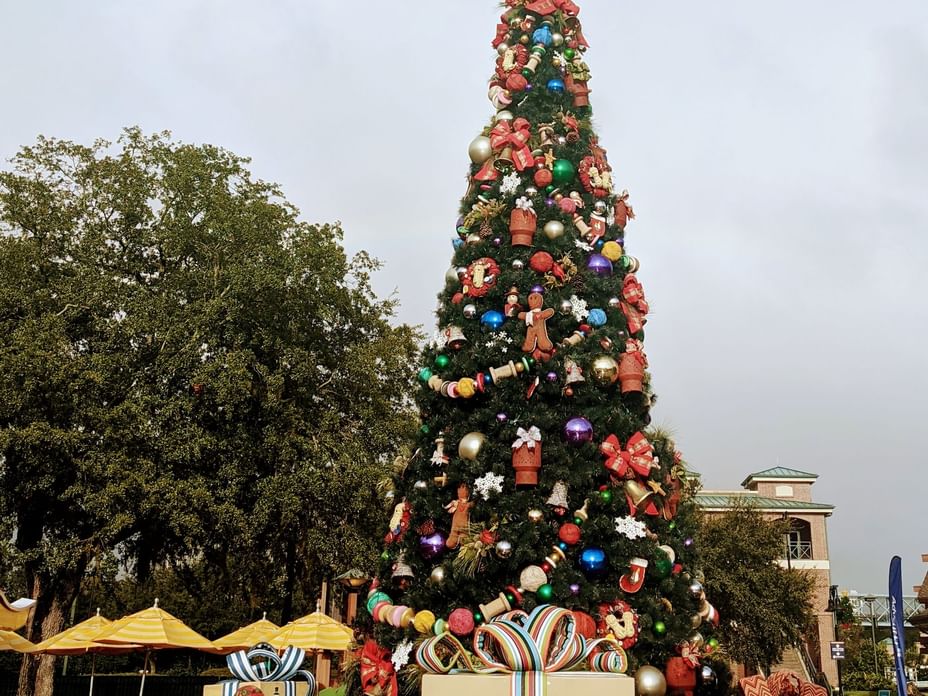 Orlando insiders have a secret… there's one place to go where you can check off your holiday shopping list while celebrating the holidays Disney-style. Formerly known as Downtown Disney, Disney Springs is an entertainment, dining and shopping district where you can really get into the holiday spirit. No matter who's on your list this year, you'll find the perfect gift at Disney Springs. Disney Springs is just a short drive away from your vacation home at Vista Cay, and it's a free, fun outing for the whole family. They're taking thorough health and safety precautions this year, with temperature checks for all guests and signage to help with social distancing. It's the perfect place to get merry while staying safe in 2020. We took a walk around this month to scope out some of the best shopping spots for you and your family. Here are our top picks:
Love Pop
This store is so cool! They offer a variety of pop-up greeting cards for any occasion, each one a work of art. Marvel at the pop-up paper art featuring characters from Star Wards, Disney, Marvel Comics, Game of Thrones, and more. They're the perfect keepsake for someone you love this holiday season.
Anthropologie
We confess, sometimes we go to this store just to gawk at the décor. Anthropologie is famed for their ever-changing displays, the perfect complement to their boho-chic home goods, clothing and accessories. Make sure to check out the sale section upstairs for your favorite fashions at a discount.
Lululemon
Everyone's favorite athleisure retailer, Lululemon, opened this summer at Disney Springs. Buttery-soft leggings, lightweight, comfy shorts and sleek swimwear are some of the things flying off the shelf at this mecca for fitness enthusiasts. Pro tip: Lululemon only has a few outlets, and one of them is in Orlando. If you want Lulus at a discount, hop across I-4 to the International Outlets to snap up some deals at the Lulu outlet!
World of Disney
This is your place for everything Disney. You've hit the motherload, whether you're looking for Star Wars merch, Frozen 2 toys, costumes, kitchenware, jewelry, collectibles, or anything in the Disney sphere, you'll find it here. Throughout Disney World, there are many different stores that carry specific items, but this store has all of it in one place. Your one-stop shop for everything on a Disney fan's list!
The Lego Store
A dream destination for Lego lovers, the Lego Store at Disney Springs is a builder's paradise. They always have new projects to inspire- with full-size lego figures both inside and outside the store. It's a superstore with a pick-a-brick wall and certified Lego specialists who can help you build anything you can imagine.
Basin
Tucked away in a corner of Downtown Disney Marketplace, this bath and body store is a delight for the senses. Stop by and try their fragrant hand scrubs and explore their dazzling variety of all-natural bath bombs, body butters, and fresh-sliced soaps. Many of the products are Disney-themed, and the scents are truly appealing so it's a perfect place to pick up a unique gift for the beauty and spa lovers in your life.
Ron Jon Surf Shop
Ron Jon is a Florida-grown surf shop where you can find cool t-shirts, surf gear, footwear, sunscreen, and fun kitschy ornaments. YETI ramblers and coolers are always appreciated as gifts, and Ron Jon has a great selection. Support local and bring home a taste of Florida sunshine.
Once Upon a Toy
Disney wisely created a collection of irresistible Mandalorian toys for the 2020 holiday season. Everybody's favorite Jedi is available as an animatronic toy, a plush doll, and on a variety of t-shirts, hats, prints and bags. You'll find them all at Once Upon a Toy, along with collectibles, plush and games from other popular Disney characters. Stuff their stockings with The Child this Christmas!
After all that shopping, you're going to have lots to celebrate. Chill out in the coolest joint- the Hangar Bar. It's a tribute to an aviator from the 1930's who was the grandfather of a Disney Imagineer. Full of aviation memorabilia, the bar also has a sweeping back porch overlooking the lake. Enjoy some of the best cocktails you'll ever experience while enjoying the festive Christmas décor. After happy hour, the world is your oyster with a variety of amazing restaurants to explore. Morimoto, Jaleo, and Homecoming are some of our favorites for upscale dining, or you can grab a killer snack at The Daily Poutine or Earl of Sandwich.
Disney Springs is the perfect place to jump-start your holiday spirit. It's festooned with colorful, sparkling decorations, and they even have a Disney Springs Christmas Tree Trail, complete with 23 Disney themed Christmas Tree trail. Wander the district to take photos of all of the trees and pick your favorite! The big Christmas tree near Zara also features nightly 'snowfall' to get guests in the holiday mood. Keep an eye out for roaming entertainers, and you might even spot Santa Claus himself! If you're visiting Vista Cay Resort during the November and December this year, make sure to put Disney Springs on your list. You're sure to find everything on your shopping list, and to leave a whole lot merrier!