The 6th Annual Busch Gardens Tampa Bay Food & Wine Festival
Starting on February 29th, enjoy an amazing experience at this iconic theme park located on Florida's West Coast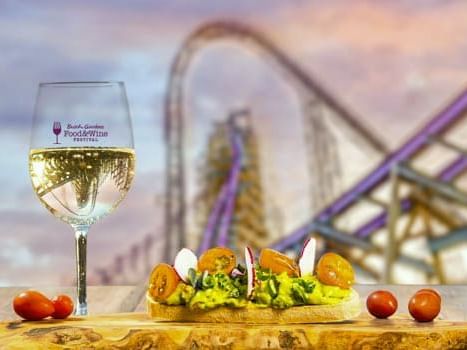 Starting on February 29th, enjoy an amazing experience at this iconic theme park located on Florida's West Coast
The Busch Gardens Tampa Bay Food & Wine Festival is celebrating its 6th edition during weekends, starting at the end of February through April 26th, 2020. Best of all, your park admission ticket grants you access to this signature event, which also features a concert series your whole family will enjoy. Scheduled artists include Collective Soul, The Commodores, Rachel Platten, Three Dog Night, KC & the Sunshine Band, 38 Special, and many more performers from a variety of musical genres.
One of the biggest draws of the Busch Gardens Tampa Bay Food & Wine Festival is its amazing food. The event is known for its craft beers, specialty wines and unique cocktails, but it is also famous for its Food Cabins—featuring exquisite menu items available for purchase. Best of all, the chefs of the event have made it easy for you to select your choice with pairings designed to evoke enjoyment and satisfaction in every sip or bite. It should also be noted that in Florida, you must be 21 years of age or older to enjoy any alcoholic beverage.
And yes, while visiting the 6th annual Busch Gardens Tampa Bay Food & Wine Festival you have can also ride every one of the park's rides, roller coasters and other attractions—including the Busch Gardens zoo, featuring over 200 animals in its own nature preserve. The zoo features lions, tigers, rhinos, gorillas, elephants, hippos, giraffes, and many more exotic creatures. Busch Gardens Tampa Bay's conservation efforts ensure these animals can enjoy a peaceful life while ensuring we can all learn about nature and its fauna.
Busch Gardens Tampa Bay is located 74 miles west of Vista Cay Resort by Millenium. In just over an hour you can enjoy the Busch Gardens Tampa Bay Food & Wine Festival and create new memories filled with sound and amazing sights. We look forward to seeing you soon!