Universal Studios Mardi Gras is Back and it's Better than Ever!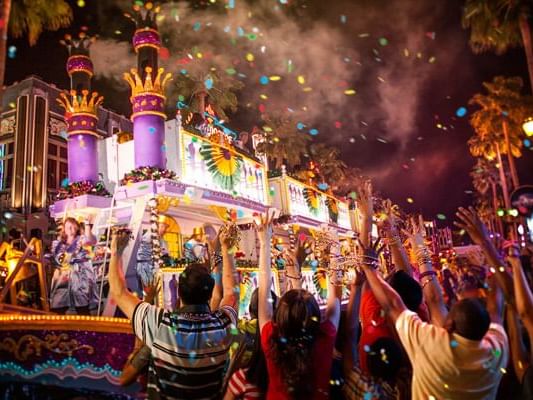 Spring is almost here—and a colorful celebration awaits as the newest edition of Universal Studios' Mardi Gras has just begun in Orlando, Florida
Nothing beats a good street party and Universal Studios knows just how to throw one every year in celebration of the world-famous Mardi Gras. Starting on February 9th and continuing through April 4th, 2019, get ready to see what Central Florida has to offer guests who come to on vacation to experience the celebration and joy of Mardi Gras.
Featuring an exciting array of live music concerts, Universal Studios' Mardi Gras will welcome on stage the likes of Bush, Gavin DeGraw, Macklemore, Becky G, Sean Paul, Ziggy Marley, and many other famous musicians. Best of all, Universal Studios' Mardi Gras is a celebration of life for lovers of Pop/Rock, Country, R&B, and other music genres.
Universal Studios' Mardi Gras also features what is possibly the best Mardi Gras parade outside of New Orleans in a family-friendly atmosphere for everyone's enjoyment. The parade will have a colorful display of costumes worn by dancers, street musicians and other performers. However, the stars of the parade will be the amazing floats on display—featuring a diverse animal theme with confetti and beads tossed around for bystanders to catch.
The Universal Studios' Mardi Gras parade will start at a different time every day. Therefore, be sure to check the times when you visit Universal Studios' parks. That said, do know that the parades are held in the early evening ahead of the rest of the evening's festivities.
A special add-on for Universal Studios' Mardi Gras is the Bayou Boil. This exclusive Mardi Gras dining event will be available on a select number of nights. The event will feature an amazing all-you-can-eat experience featuring Louisiana-style "boil" cuisine, which includes crawfish, shrimp, chicken, and jambalaya, among many more Gulf-area epicurean delicacies.
As you know, Vista Cay Resort by Millenium is strategically located "just down the road" from Universal Studios Florida. And we would love to be your resort of choice when you come down to Orlando to experience Universal Studios' Mardi Gras—so see you soon!