What's New in Orlando's International Drive
The iconic tourist corridor continues to be reshaped with new restaurants, entertainment venues and reasons to stroll up and down its welcoming sidewalks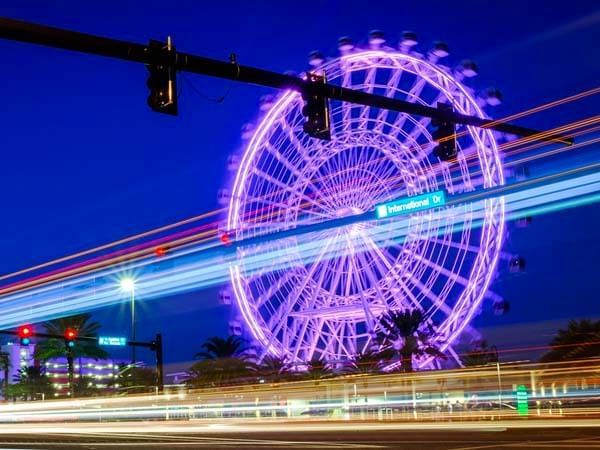 The iconic tourist corridor continues to be reshaped with new restaurants, entertainment venues and reasons to stroll up and down its welcoming sidewalks
Many people don't know that the origins of International Drive—which connects Universal Studios, SeaWorld Orlando and countless other attractions—had a common beginning with the U.S. Space Program. Back in the 1960s, the area was used for rocket testing during the time of the Mercury and Gemini space programs. But once Walt Disney World's Magic Kingdom opened its gates to welcome tourists, the opportunity to serve the needs of thousands of families found a home in this little-known testing ground.
International Drive has several hotspots where you can shop, dine and enjoy your day away from the big theme parks. And its landscape continuously evolves as new businesses pop up, sometimes in place of previously-existing venues that are no longer appealing or have bene sold off to new entertainment developers.
With this in mind, here are some recent additions to International Drive in Orlando that are worth a visit:
Uncle Julio's at Icon Park - This casual Mexican restaurant is known for its signature Margaritas, savory fajitas and its iconic chocolate piñata--a favorite for anyone celebrating a birthday, anniversary or engagement.
Mikado Revolving Sushi & Hot Pot at Icon Park - This new casual Japanese restaurant features a modern and exciting take on Asian food, including its revolving carousel of sushi that will keep you entertained during your meal.
Burger Barn Fresh Burgers on I-Drive - This popular craft burger restaurant recently opened in Orlando and it has quickly become a favorite for both locals and tourists alike.
Dezerland Action Park - Formerly the Artegon Market, the repurposed shopping center is set to reopen in late 2019 with a massive Auto Museum featuring hundreds of cars since the inception of consumer vehicles.
At Vista Cay Resort, we will continue to share anything that pops up in the International Drive corridor, helping you discover the evolving nature of this exciting tourist strip. And we look forward to seeing you stay with us soon, so you can take advantage of everything Orlando has to offer during your next vacation or business trip.
It's time you book your stay with us and start enjoying everything International Drive in Orlando has to offer!