Busch Gardens Tampa Bay Begins its 60th Anniversary Celebration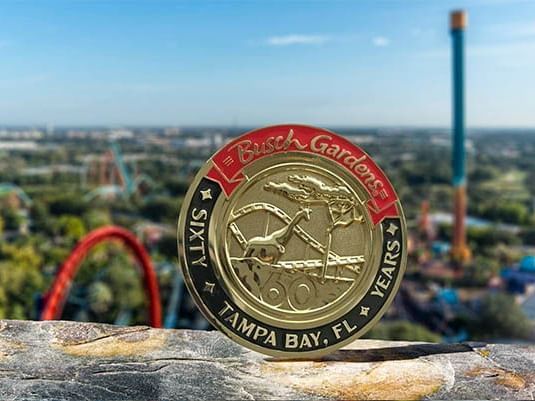 Since it first opened in March 1959, the adventure-themed park has continued to evolve into a modern and sophisticated immersive entertainment experience for people of all ages
Busch Gardens started a simple bird garden that featured a brewery tour for locals to enjoy. Over the years, its evolution continued into a zoo and eventually a theme park with rollercoasters. And this year's celebration will give guests even more reasons to get excited.
Today Busch Gardens Tampa Bay is a 335-acre theme park that attracts 4 million visitors every year. As the park kicks off its 60th Anniversary Celebration, locals and tourists will be entertained with a variety of events and features for this special occasion.
One of the most anticipated events of this anniversary party is the grand opening of Tigris at Busch Gardens Tampa Bay—the tallest roller coaster in Florida, towering at 150 feet and accelerating riders up to 62 miles per hour. This will be the 9th roller coaster in the park, which has been a major draw for thrill-seekers from around the world.
Another exciting addition to Busch Gardens Tampa Bay is its new Pin-Trading Program, which features over 150 unique pins—including some rare ones not found in the park's stores. The pins can also be traded with ambassadors throughout the park, which adds to the excitement for pin collectors of all ages.
Beer lovers can enjoy two complimentary brews per day of attendance at Busch Gardens Tampa Bay. These are available at Serengeti Outlook Pub and Restaurant and the Garden Gate Café but note that valid identification is required for guests 21 or over. This beer event pays homage to the parks roots as an Anheuser Busch brewery, although the park is no longer under the brewer's ownership and is run by SeaWorld Entertainment.
Finally, we've already covered in this blog the 5th Annual Food & Wine Festival at Busch Gardens, which attracts many local residents along with adventuring tourists. This event caters to foodies who want to taste exotic dishes and pair them with a variety of beverages.
Vista Cay Resort by Millenium is proud to support sibling theme parks SeaWorld Orland and Busch Gardens Tampa Bay. We love to host their fan base and serve as their lodging destination of choice during their Florida vacation.
If you're planning on visiting Central Florida soon, please be sure to check out our great rates and book early to ensure availability.