Florida Manatees Get a New Lease on Life Thanks to SeaWorld Orlando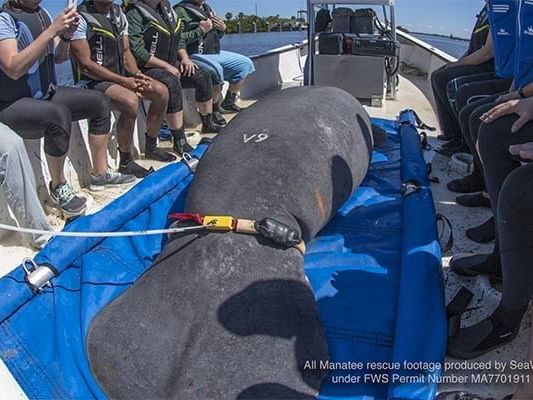 More than a theme park, SeaWorld contributes to the preservation of marine and other species thanks to its conservation programs
As one of Florida's endangered wildlife species, manatee population in the state's rivers and lakes has been threatened by human interaction. It is not uncommon to see manatees bearing the scars caused by propellers on boats and in some rare cases, manatees have been known to die after ingesting plastic objects, finishing gear and other man-made materials.
However, SeaWorld Orlando goes beyond entertaining guests by doing some amazing work behind the scenes--and they are on call 24/7 every day of the year. In fact, SeaWorld's Rescue Center is credited for saving hundreds of animals every year, then rehabilitating them and returning them to their natural habitats to live out the rest of their lives in safety and with freedom.
During the last several months, SeaWorld has been rehabilitating a pack of manatees which were rescued at different times throughout 2017 and 2018. And earlier this Spring, the Rescue Center successfully returned seven manatees—Bambam, Goober, Agua, Camlee, Percy, MJ, and Baca—back to nature after getting a clean bill of health and an electronic tag. Tagging allows SeaWorld rescuers to continue tracking their progress and ensuring they remain safe after their return to wildlife.
If you haven't been to SeaWorld before or in a while, you should make sure to add it to your list during your next visit to Orlando. The park has been undergoing a vast number of refurbishments and additions—including the new Sesame Street™ land. No longer seen as just a park about marine life, SeaWorld offers guests countless attractions, rides and roller coasters to keep you entertained from morning to evening.
Vista Cay Resort by Millenium has a special relationship with SeaWorld and loves to share these feel-good stories with our guests. SeaWorld Orlando is located a few miles from our resort's location—and we are always happy to be a lodging option for their guests. So, if you are planning on visiting SeaWorld in the near future, we look forward to having you stay at Vista Cay Resort by Millenium, located in the middle of Orlando's theme park action.
We look forward to welcoming everyone who makes Orlando their next vacation destination. SeaWorld is only a stone's throw from our resort property and thus makes us a perfect location for your stay!