Gatorland Shows Off Three Baby "Albino" Alligators
As one of Central Florida's oldest local attractions, Gatorland continues to educate and showcase our native Florida reptiles for everyone's enjoyment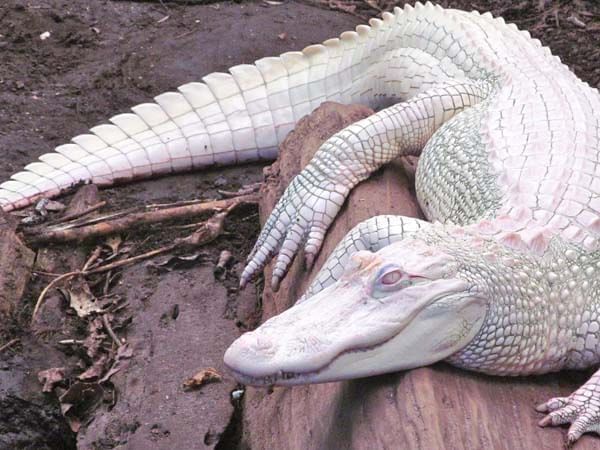 As one of Central Florida's oldest local attractions, Gatorland continues to educate and showcase our native Florida reptiles for everyone's enjoyment
Everyone knows that if you see a body of water--whether it is a retention pond, lagoon or lake--in Florida, chances are there are alligators in them. But rather than choosing to be scared or overly cautious, Floridians embrace the exotic nature of its native residents by welcoming our coexistence. And it's no secret that according to the State of Florida, there are more than 1.2 million alligators living in our Sunshine State.
Gatorland opened over 70 years ago in a 110-acre tract of land in Southeast Orlando, near Kissimmee. Since then, they have been educating Central Floridians and tourists about this amazing animals and other reptile species protected in this sanctuary-turned-attraction. Also, you cannot miss this attraction thanks to its large alligator jaws through which you must walk to enter this venue.
In November 2019, Gatorland welcomed three rare albino alligators, which are now on display and awaiting a new name. The park is home to several thousand alligators of different species, but also to a variety of snakes, lizards and even native Central Florida birds kept in a massive aviary.
Alligators are a keystone species known for its resemblance to the crocodile, but easily differentiated from its deadlier cousin due to their broad snouts and somewhat smaller build. Alligators are also freshwater reptiles who thrive in swamps, rivers, lakes, marshes, and sometimes in people's own backyard swimming pools.
Although they can grow upwards of 12 feet in length, most alligators are removed from the wild when they are more than 6 feet in length, depending on their threat to humans. It is not uncommon to find these reptiles in basking in the sun during the summer and this is when wildlife authorities tend to remove the most alligators from urban areas.
Vista Cay Resort by Millenium guests love to visit Gatorland and other local attractions. We are strategically located near everything that makes Central Florida a perfect vacation destination.