Go Behind the Scenes at SeaWorld Orlando
Central Florida's original adventure theme park is giving guests an opportunity to connect to its sea life conservation and animal rescue efforts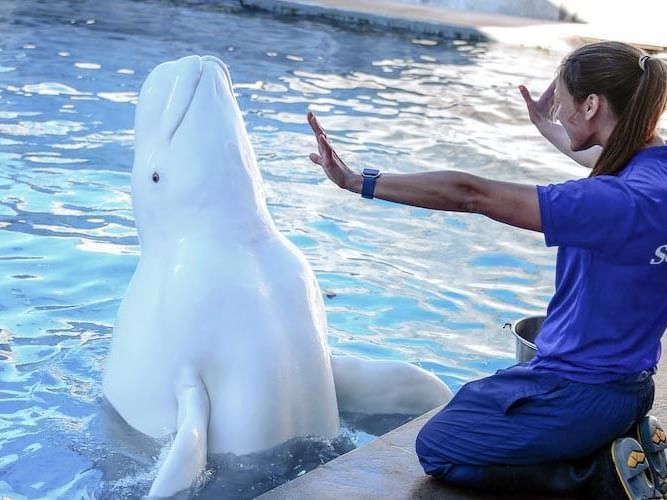 Central Florida's original adventure theme park is giving guests an opportunity to connect to its sea life conservation and animal rescue efforts
Over the years, SeaWorld Orlando has been evolving from its original aquarium theme to an action-packed adventure theme—but that doesn't mean that the park has forgotten its roots. Today, SeaWorld continues to lead in a variety of nature conservancy efforts primarily focused on wildlife rescue and rehabilitation. The focus is still on sea life and animals who live on or near water bodies, helping rescue living creatures while educating people about the importance of safeguarding their future.
On select Fridays, Saturdays and Sundays—from January 10th through the 26th—SeaWorld Orlando is inviting guests to hear about these initiatives and programs, directly from team members. The opportunity will give you a chance to become aware of what it takes to ensure saltwater and freshwater creatures can be preserved for future generations to enjoy. Here are some of the opportunities you can enjoy during this special "Inside Look" from SeaWorld:
• SeaWorld Rescue Center (Open 10 am to 4 pm)
• Honey Bee Conservation Program (Open 10 am to 4 pm)
• Dive Operations (Presentations at 12:30 pm and 3:00 pm)
• Dolphin Theater (Presentations at 12:00 pm and 4:30 pm)
• Manta Aquarium (Open 10 am to 4 pm)
• Sea Lion and Otter Primary Housing (Open 10 am to 4 pm)
With these six locations within SeaWorld Orlando, guests can enjoy a different perspective on the great work these folks are doing. Most importantly, they will become aware of these specialized efforts and hopefully become advocates to ensure others are privy to the goodwill that comes from an initiative that has always meant to help wildlife through the active education of tourists who come from all over the world to enjoy this amazing adventure park.
Vista Cay Resort by Millenium has always enjoyed a special relationship with our friends at SeaWorld Orlando and we are often a resort location of choice for tourists and business travelers, given our close proximity to the park. We look forward to seeing you soon and hope that you get to enjoy SeaWorld Orlando's Inside Look during your stay in Central Florida.