Hagrid's Magical Creatures Motorbike Adventure Opens June 13th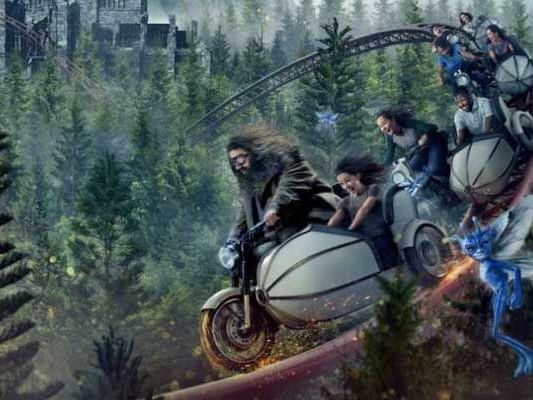 The new immersive roller coaster ride will ensure you feel the action with 50 mph speeds plus intense twists and turns—and yes, lots of wondrous creatures
It's been a while since the Wizarding World of Harry Potter - Hogsmeade has had an update and we are excited to share that Hagrid's Magical Creatures Motorbike Adventure at Universal's Islands of Adventure is about to open next week. This roller coaster is replacing the former Dragon Challenge and further expands the Harry Potter-themed world within this Universal Studios park. The ride is expected to be fully open by mid-June and the progress reported by visitors shows that Universal is ready to launch.
Inspired by the character of Rubeus Hagrid—the half-giant Keeper of Keys and Grounds at Hogwarts School of Wizardry—the roller coaster features his iconic motorbike as the central element of the ride's storyline. And it is this "roller coaster train" that starts out by propelling Muggles on a 70-degree catapulting sequence that quickly speeds them up to 50 miles per hour for an incredible and thrilling ride, where guests will encounter a variety of creatures during the reportedly 3-minute roller coaster ride.
As Orlando welcomes a new wave of visitors during for the 2019 tourist season, the new Hagrid's Magical Creatures Motorbike Adventure will be ready to delight Harry Potter fans from every corner of the world. Vista Cay Resort by Millenium is located just 6 miles down the road from Universal Studios. For years, our beautiful resort has been a favorite lodging destination for both tourists and business travelers. In addition, our friendly staff is always welcoming of both new and returning loyal guests who seek the best value in an Orlando vacation stay.
Vista Cay Resort is also conveniently located near the International Drive entertainment corridor. This tourist district is known for its amazing choice in restaurants, local attractions and shopping venues. If you are planning to visit Orlando on vacation and want to visit Universal Studios' theme parks and in particular, Hagrid's Magical Creatures Motorbike Adventure, then be sure to check out our exciting rates and don't forget to book early.