Orlando's Discovery Cove Becomes a Certified as an Autism Center by IBCCES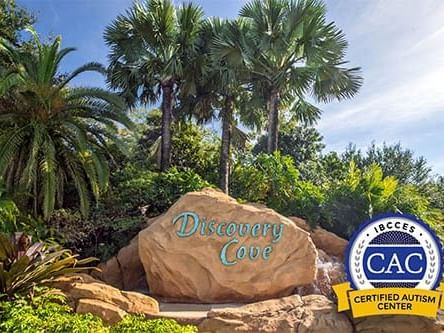 The International Board of Credentialing and Continuing Education Standards certification makes Discovery Cove the first all-inclusive animal interaction park in the United States
Children with autism are characterized by having a different way of experiencing the world around them. Their sensory sensitivity must be taken into account, particularly when interacting with people, animals and even nature. SeaWorld Entertainment has been a pioneer in this effort, following the autism-friendly certification of its Orlando-based Aquatica water park and Sesame Place—a sibling park located in Philadelphia.
The IBCCES certification process requires the staff to be trained across a range of topics, situations and conditions related to Autism Spectrum Disorder or ASD. Following their specialized training, Discovery Cove staff are now better prepared to meet the needs of guests with a family member who is in the autism spectrum.
A major challenge for families with an autist member is having to manage without the understanding and empathy of staff—especially when they don't know how to react to a child with autism. Fortunately, Discovery Cove is now ready to serve their needs without the stress of having to explain the nature of autism and its requirements.
Autism sensitivity and awareness training for Discovery Cove also involved a thorough onsite evaluation of the property—including a review of the guest experience. In addition, the ASD assistance training will be an ongoing effort, ensuring that new staff is up-to-date on the knowledge and resources needed to ensure a pleasant experience for a guest with autism.
Sensory overload for autistic children is a major concern for parents. However, Discovery Cove offers them an opportunity to allow their autistic children to swim with dolphins or swim among tropical fish. Through their training and preparation, the staff can work with autistic children and their families to ensure an amazing experience for all.
Vista Cay Resort by Millenium is located a short drive from Discovery Cove and it is a perfect place for families to retreat after a busy day at this or any other theme park in the area. We invite you to book early to ensure availability and look forward to your arrival in sunny Orlando, Florida.