SeaWorld Orlando Continues its Mission to Save Endangered Species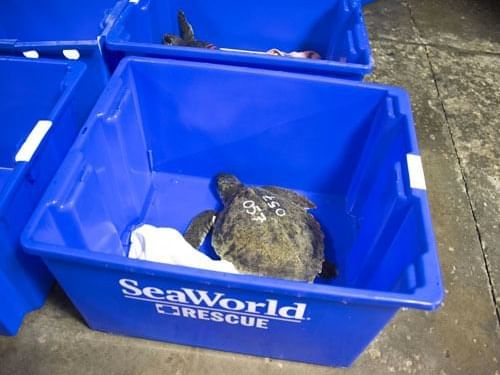 SeaWorld's animal care team recently treated a group of sixteen turtles, which were rescued from the Atlantic coast by the Massachusetts Audubon Society
After suffering from cold stunning, a group of the rare Kemp's ridley sea turtles—which are deemed a critically endangered species—were captured for treatment in an effort to ensure their survival. These rare breed of sea turtles are known to thrive in warm water, which is why Audubon executed their rescue from the frigid Atlantic waters.
Over the last few decades, SeaWorld's marine biology team, its resources and facilities have supported many organizations in similar rescue efforts. From its inception, SeaWorld has been fully committed to the preservation, nourishment and subsequent release of marine wildlife. In the case of the group of Kemp's ridley sea turtles, they were first stabilized at the New England Aquarium—then flown to Orlando, Florida for subsequent treatment.
After undergoing treatment for a variety of ailments, ranging from pneumonia to malnutrition and even corneal ulcers. Following the treatment of the group, the little critters were deemed healthy enough to return to their natural habitat. It was then that SeaWorld decided to transfer them to the Canaveral National Seashore, allowing them to be reintroduced into the warmer Atlantic waters of Florida's Space Coast.
SeaWorld has contributed to the rescue and rehabilitation of many sea creatures. In fact, they have rescued over 33,000 animals since the 1970s. SeaWorld's rescue teams are on standby 24-hours a day, seven days a week, all year round. That's their commitment based on their leadership and vision to ensure humans can preserve the wildlife that brings balance to our global ecosystem.
Vista Cay Resort by Millenium has a special relationship with SeaWorld Orlando and loves to share these amazing stories about their marine life preservation mission. We are proud to collaborate with them on the hospitality front, which ensures that guests can enjoy the many creatures it cares for at its theme park.
We invite you to stay with Vista Cay Resort by Millenium if you are planning on visiting SeaWorld Orlando, given our close proximity to not just SeaWorld, but also its sibling properties of Discovery Cove and Aquatica water park. And don't forget to book early to ensure availability.