Voodoo Doughnut: A Premium Donut Fix at Universal CityWalk™ Orlando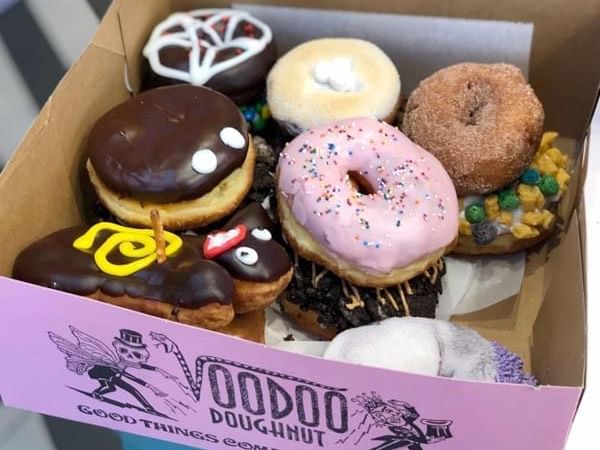 What does Portland, OR have in common with Orlando, FL? Simple: if you crave the most elaborate donuts in the world, you have to be in either one of those places to get them
Donut lovers rejoiced when they first heard that Voodoo Doughnut was coming to Orlando. And when they heard it making Universal City Walk its new location, we all knew right away they were coming to the best place where it could please both tourists and locals alike—outside of its original home in Portland, OR.
When craving donuts, there's Voodoo Doughnut—and there's everybody else who sells donuts. Some may come close to the experience, but no one can top it as of yet. Let's dissect the experience in full detail…
First, when you visit Voodoo Doughnut you are in for a treat like no other, which starts with the wait. Yes, the wait. The venue is a landmark in the Pacific Northwest, where people wait in line to come in and buy their donuts. Orlando is no different and chances are you will be waiting in line until your turn comes up.
Second, once inside you are going to be on Cloud Nine inhaling the delicious smell of their dough, but most importantly—you will spend several minutes looking at Voodoo Doughnuts' eclectic variety of donuts. After all, you waited in line impatiently, so you don't want to rush through and order the wrong thing. And yes, don't forget to look around and admire the visual experience inside the store—it pairs perfectly with the smell of donuts.
Third, and possibly last, you will order not one or two (remember that long wait?), but at least three donuts from the menu. Anyone who endures the wait and suffering to go into this popular donut shop must be mindful of the honor and exclusive access to their precious offerings. This is why you should be adventurous and explore a few options.
After you are done eating your donuts and are getting regretful thoughts about the caloric intake, simply walk a few laps around Universal CityWalk™ Orlando, so you can feel a bit better about the amazing experience you've enjoyed at Voodoo Donughts.
Now, Vista Cay Resort by Millenium does not have donuts, but we are a coveted resort destination that will reward you for the anxious countdown to the start of your Orlando vacation. And don't forget, you can bring back to the resort as many donuts as you'd like so you can keep enjoying them after your visit to Universal CityWalk™ Orlando.